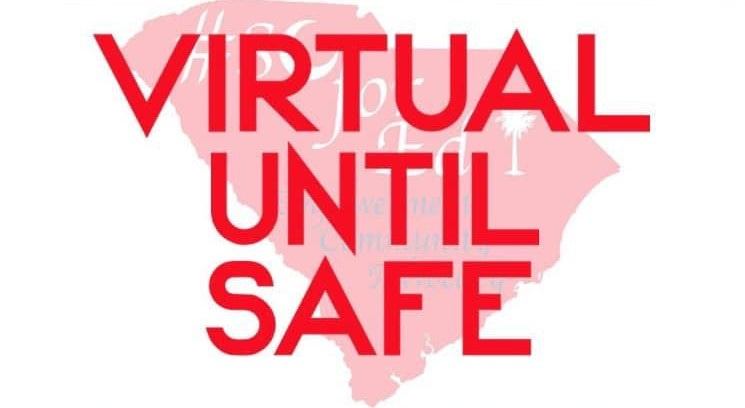 It's been almost 5 months since my daughters went to preschool, and they've started getting nostalgic. One of them told me today about a time when a kid hit her with a bike on the playground. I had never heard that before. They've both started vividly describing the flavors of popsicles they used to eat in the cafeteria. I got conned into making paper snowflakes this morning because they remembered making winter crafts one time. It's August.
We live in South Carolina, a state that has done a monumentally bad job containing the COVID-19 pandemic, so I have no idea when it will be safe to send my children back into their school. I don't know what to tell them, but they miss their friends. They miss their teachers. Most days I feel powerless to do much other than hug my kids and shake my fist at the indifference and incompetence of our state and federal government.
One ray of hope has been watching the activism of public school teachers in my state. They've been organized for a few years now, pushing back against decades of defunding, declining pay relative to inflation, and abandonment of poor, rural, and majority-black schools. Now they're setting their sights on the state's inept handling of the pandemic, and they're raising their voices to protect all of us as the governor pushes for the reopening of schools. It's inspiring to see.
My guests this week are two accomplished teachers from South Carolina who have been on the frontlines pushing for change while working to protect us all.
Chanda Jefferson (@TheRealChandaJ on Twitter and Instagram) is the science department chair at Fairfield Central High School in Winnsboro, and she is the 2020 South Carolina Teacher of the Year. On July 15, after Gov. Henry McMaster publicly pressed schools to reopen during a spike in infections, she captured the frustration of a lot of teachers with a statement titled "Issa No for Me." You can read it by clicking here.
Steve Nuzum (@Mr_Nuzum on Twitter) is an English teacher at Ridge View High School in Columbia, and he serves as legislative director for the teacher advocacy group SC for Ed.
This is another very South Carolina episode, but I think there are important takeaways for solidarity movements in other states. If you're interested in learning more about teacher activism, particularly as it plays out in Republican-dominated states like Arizona, West Virginia, and Oklahoma, I highly recommend picking up Eric Blanc's 2019 book Red State Revolt: The Teachers' Strike Wave and Working-Class Politics. You can order it via the nonfiction section of the Brutal South storefront on bookshop.org.
***
You can sign up for free to receive this email newsletter fresh-baked in your inbox every Wednesday, or if you pitch in $5 a month for a paid subscription, you can get access to subscriber-only content. This week I did a review of alternate designs for the Mississippi flag, and recently I put out an extended podcast episode on the topic of hard seltzer, internet memes, and the violent right-wing boogaloo movement.