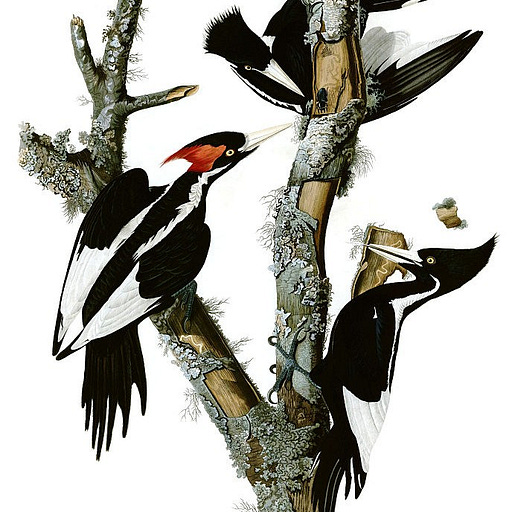 Nov 17, 2021 • 48M
29: The Lord God Bird is dead (w/ Matt Drury)
Searching the swamps for the ivory-billed woodpecker, a (probably) extinct enigma
On struggles, schooling, and raw concrete in the dirty dirty south. A companion podcast to the Brutal South newsletter.
We're gathered here today to speak of the ivory-billed woodpecker, a tremendous beautiful bird that is gone forever ... or so some people think.
Hey. Welcome to Episode 29 of the Brutal South Podcast. The ivory-billed woodpecker has been on my mind again since late September when the U.S. Fish and Wildlife Service proposed moving it and 22 other species from the endangered species list forever, effectively declaring the bird extinct.
It's been called the Lord God Bird, supposedly because of the things people would exclaim when they encountered this big, elusive bird in the American wild. The last universally accepted sighting was in 1944 in northeast Louisiana. Hobbyists and professionals alike kept searching, though, keeping the faith that it was out there, but hiding, like a cryptid. This bird has been the subject of songs, novels, endless speculation, and long expeditions in the swamps and forests of the Southeastern United States.
My guest this week is Matt Drury, who's currently working as a resource management coordinator for the Appalachian Trail Conservancy. In the course of his career he's done all kinds of fascinating and vital work in the woods in this part of the country, including a stint leading the search for the ivory-billed woodpecker in old-growth swamplands across South Carolina. I don't want to give too much away, but I learned so much from him. There's a lot to mourn, but a lot we can still save, too.
To learn more and support Matt's work, visit appalachiantrail.org and southernspruce.org.
If you liked the podcast, please leave a nice review wherever you do that or just share it with your friends. Also, if haven't yet, check out the Brutal South newsletter at brutalsouth.substack.com. I've been publishing at least one interesting thing a week for more than 2 years on labor, ecology, parenting, art, and just about everything else from my little perch here in South Carolina. I think you might find something you like. One piece you might appreciate is this one from June 23 on camping in fragile places with young children during the Anthropocene:
The episode art is an engraving of ivory-billed woodpeckers, Campephilus principalis, by John J. Audubon.