The Christian music red flag hall of fame
Let's talk about the wack ideology behind some beloved anthems of my youth
The only bracket I've been paying attention to this week is The Christian Music Tournament. Some guy on Twitter placed 64 contemporary Christian bands on an NCAA tournament-style bracket and has been polling people every few days to see who advances to the next round.
There are days when I have to remind myself I grew up in a subculture, albeit one of the largest and most hegemonic subcultures in this country. While I might get choked up at the sheer sportsmanship of Reese from the Christian ska band Five Iron Frenzy cheering on his competitor, the late songwriter Rich Mullins, in the Final Four right now — and while I might have jeered like a teenage metalcore elitist when Thousand Foot Krutch took down Zao — I know that those names mean nothing at all to most people.
I say all this as a preface to some bad news that you might have seen coming: Some of this music doesn't hold up.
This week I'd like to revisit some songs that will inspire either anthropological curiosity or waves of uneasy recognition, depending on how you grew up. I still have a deep affection for many of the artists whose work I've been contemplating this week, but I've also come to recognize some frankly disturbing themes in their work.
I present to you the inaugural class of inductees in the Christian Music Red Flag Hall of Fame:
"Jesus Freak" - dc Talk (1995)
If you've heard one song on the list, it's this one. The album of the same title went double platinum, and dc Talk, a grunge-rap group formed at Jerry Falwell's Liberty University, remains one of the most influential bands in the history of Christian rock music.
My objection to this song isn't about the music (nothing wrong with some Nirvana riffs!) or even the lyrics (fun, if corny!), but about the cottage industry of Christian persecution fantasy that it participated in.
Martyrdom is one of the oldest themes in art, but dc Talk were singing to Christian teens in a country governed primarily by Christians. They took a mild epithet from the 1960s "Jesus People" counterculture and introduced it to a new generation of evangelicals as a badge of honor: "What will people think when they hear that I'm a Jesus freak? What will people do when they find out it's true?"
I had actually never watched the music video until last year, when the Prophetic Imagination Station podcast did a season-long deep dive on Jesus Freak and its cultural legacy. The video is a singularly disturbing piece of work.
The story goes that the band was looking for a music video director with an edgy artistic vision, so they hired Simon Maxwell, whose most recent work at the time was — I kid you not — Nine Inch Nails' live video for "Hurt." Apparently the clean-cut guys in dc Talk saw Trent Reznor screaming his guts out over black-and-white footage of rotting animal carcasses and decided, "We gotta cop that style!"
Maxwell, to his credit, told the band he was not a Christian and was probably an odd fit, but they seemed to be game for some provocative art.
True to his style, Maxwell gave the band another dark video collage. He incorporated archival footage of burning churches, burning crosses, and of Nazis burning books. Any viewer with a basic history education would note that Christians, whether nominal or sincere, were the perpetrators of persecution in several of the scenarios depicted in the video. These images were interspersed with shots of the band rapping in some sort of prison cell, assuming the place of the persecuted.
The cultural moment inspired by this song in Christian communities was not one of thoughtful introspection and self-criticism. It inspired lines of merchandise and books about Christian martyrs. It played into one of the oldest anxieties in Christian life: If I am not being persecuted, am I really following Jesus at all? I know that anxiety well, and I can report that this song didn't help one bit.
"I Want to Know You" - Sonicflood (1999)
Sonicflood is an anthemic worship band that started out, coincidentally, as dc Talk's backing band. If you grew up evangelical in the United States in the early 2000s, you probably had a formative religious experience involving a Sonicflood song. "Cry Holy," "I Could Sing of Your Love Forever," "Open the Eyes of My Heart," "The Heart of Worship," "Here I Am to Worship" — if you were the type to close your eyes and lift your hands in worship, you were probably inspired to do so during a song that Sonicflood either wrote or popularized.
I count myself among that crowd. One morning a few months ago, when my kids were at school and the house was quiet before work, I was having an unironic ecstatic experience singing the song "I Want to Know You" with a guitar and a chord sheet. I decided to pull up the song on YouTube to play while I folded laundry, and that's when I heard something I'd never heard before.
The album version of the song ends with a minute-and-a-half-long sermon delivered by (I guess?) lead singer Jeff Deyo. It includes the following:
Because this nation — we know what the foundation is. It's all over the Constitution. It's all over the walls of the Jefferson Memorial, the Lincoln Memorial. It's written throughout history. Regardless of what the politicians believe, regardless of what you and I attest to, truth is truth. The founding fathers built it on the truth of the Word of God. Everything about the laws of this land were taken from the scripture, from Old Testament. They were right from the Old Testament Books of the Law.
I, uh … guess I'd only ever heard the radio edit.
The ahistorical claptrap at the end of this track is not much different from the sermons you'd hear in a megachurch over a 4th of July weekend, back then or today. I was skeptical of this strain of nationalism as a young man, and I reject it outright today as a poisonous influence in both our churches and our politics, but I somehow missed the fact that our most beloved worship songs were tainted by it too.
I can't help myself; I'll probably be singing this song until I'm dead, jangly chords and all (nothing wrong with a Third Eye Blind riff!). But when I read about the COVID-skeptical antics and Trump cheerleading of present-day worship stars like Sean Feucht, I recognize the precedent, and I know that I was steeped in it too.
"Mood Rings" - Relient K (2003)
This one stings the worst. The pop-punk band Relient K's 2003 mainstream breakout album Two Lefts Don't Make a Right...But Three Do came out when I was in 8th grade and served as the soundtrack to some pivotal moments in my adolescent emotional development.1 It was produced by Toby McKeehan and Mark Lee Townsend of — you guessed it — dc Talk.
I will never be able to judge this album objectively on its merits because it's a part of my psyche, for better and for worse. That being said, the lyrics of the song "Mood Rings" are pretty damn misogynistic.
Here's the chorus:
And I've contrived some sort of a plan to help my fellow man:

Let's get emotional girls to all wear mood rings

So we'll be tipped off to when they're ticked off

'Cause we'll know just what they're thinking … just what they're thinking

She's so pretty but she doesn't always act that way

Her mood's out swinging on the swing set almost everyday

She said to me that she's so happy its depressing

And all I said was someone get that girl a mood ring
This was, in retrospect, not a great message for Relient K's fanbase of teenage boys and girls. It would be easy to write this song off as a regrettable bit of youthful angst, except that the band and its management spun it off into an entire book of insipid dating advice published by an imprint of the Christian book publishing giant Thomas Nelson.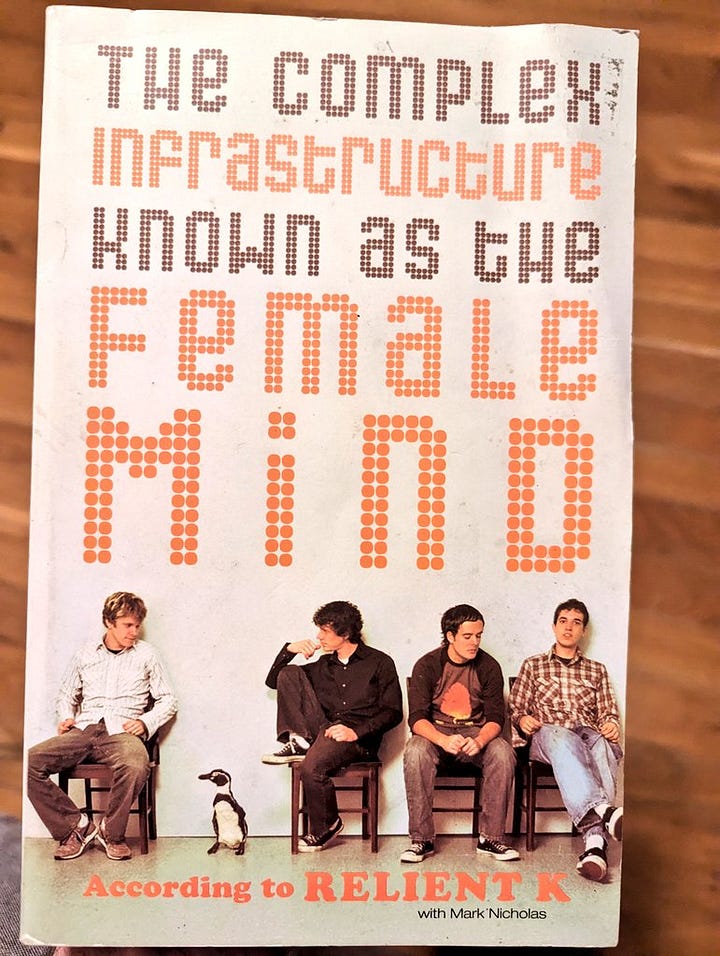 The title of the book, The Complex Infrastructure Known as the Female Mind, comes from the final line of "Mood Rings" and is presented as a book of wisdom from the members of the band and their co-author, a guy named Mark Nicholas. A dear friend snatched up a used copy and mailed it to me years ago, and let me tell you: It is atrocious.
The bulk of the book consists of chapters outlining the "Girl Types," including The Athlete, The Mathlete, The Drama Queen, The Airhead, and … Vanilla Pudding. Tacked onto the end, we get chapters on the two (just two!) taxonomies of Guys: The Ape and Mr. Wonderful.
Here's a sample of the glittering prose:
Of all the girl types, The Airhead might be our favorite. Or at least the most endearing. One thing you can say about The Airhead is that she's happy. Always happy. 
Here's some advice they dispensed to teenage girls:
We believe that most times there is a direct correlation between the degree of a girl's immodest dress and the lack of her self-worth and confidence or just complete ignorance. You are a little more important and valuable than that . . . to become some guy's sexual fantasy or prey. So be smart about what you wear.
Now I know better than to idolize dudes with guitars, but my heart sank when I got to this passage. The cool, snarky guys whose music meant the world to me were always only two degrees of separation from Jerry Falwell and the Moral Majority, and at least this once, they fell back on a hateful ideology. The book was a stupid cash grab, but a consequential one in my mind.
I'll end with a coda that I discovered while obsessing over "Mood Rings" this week. Last year, TikTok user @kirbymacks posted a video highlighting the song's lyrics with the caption "Therapy isn't enough I need Christian punk band Relient K to apologize for this song from 2003. What in the evangelical misogyny??"
A user named @relientk replied: "We officially apologize. We had a lot of growing and learning to do, still do! Btw on TikTok because of this haha."
I want to believe it was really lead singer Matt Thiessen jumping into the replies. I want to believe we're all growing up and learning. Some days I wonder.
***
Honorable Mentions for the Christian Music Red Flag Hall of Fame go to "Breakfast" by Newsboys (1996) and "Kill Me, Heal Me" by Skillet (2001).
Got your own nominations for future installments? Sound off in the comments.
I realize I went full Hater Mode this week, so as a palate cleanser I offer you this bootleg concert video of Rich Mullins and A Ragamuffin Band at Cornerstone 1997. Rich wasn't perfect either, but he really gave us a gift that day.
If you enjoyed this week's issue, you might enjoy previous issues like this one about the Christian post-hardcore band mewithoutYou … this one about the esoteric connections between Rich Mullins and the Mountain Goats … or this one about the Country Cringe Hall of Fame.
Brutal South is a free weekly newsletter about class struggle and education in the American South. If you would like to support my work and get access to the complete archive of subscriber-only stuff, paid subscriptions are $5 a month.
Bookshop // Twitter // Bandcamp // Spotify Podcasts // Apple Podcasts
1
The last two tracks, "From End to End" and "Jefferson Aero Plane," were load-bearing beams in my emotional architecture from ages 13 to 18.