A brutal year
On Walker Percy, the writing life, and making money with a newsletter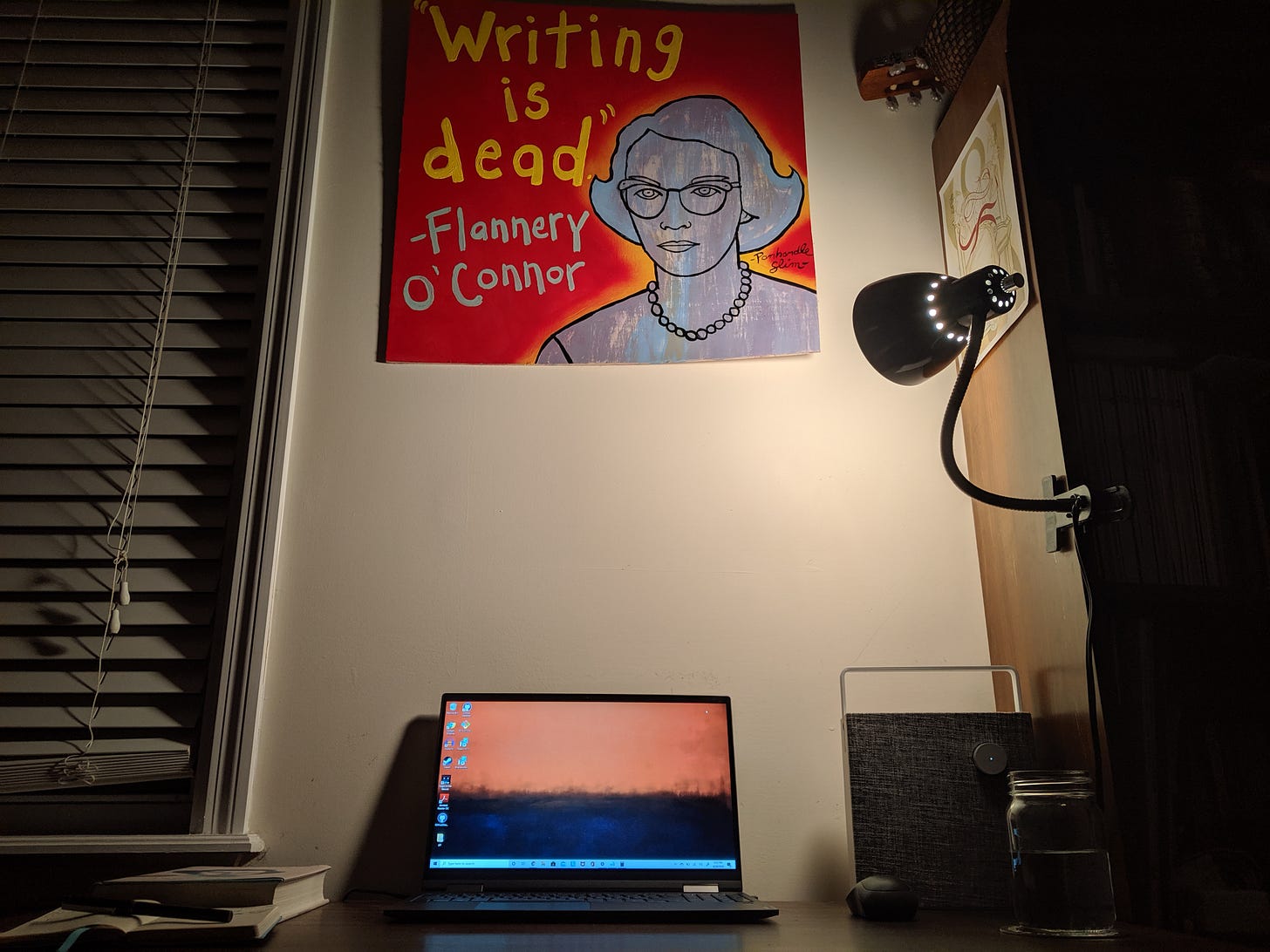 In case you missed it, I released episode 6 of the Brutal South Podcast earlier in the week. It's an interview with my friend Dave about hard seltzer and right-wing militants. 
I tried something new with the podcast this week: I released a short version for everyone and a full-length version for paying subscribers. If you want to support the newsletter and get access to other subscriber-only content going forward, hit the Subscribe Now button below. (Don't feel bad if you can't! Seriously. Wednesday editions will always be free.)
***
Walker Percy wrote one of the great existentialist novels of the 20th century, but it was almost lost to obscurity due to the vagaries of the publishing industry.
The Moviegoer, Percy's 1961 debut, follows a young Korean War veteran named Binx Bolling who returns home to Louisiana and finds himself alienated from the culture and from his own daily life. He sets off wandering New Orleans and other American cities, searching aimlessly for God while taking in his surroundings through the filter of a sharp wit.
The book was a tough sell, commercially speaking. It took several rounds of fraught revision to get it past Percy's editors at the Alfred A. Knopf publishing house.
"Binx's search," Knopf editor Stanley Kauffmann wrote to Percy in a February 1960 letter accompanying a revised manuscript. "This thread, which winds through the book, still seems to be raised with fanfare, forgotten, referred to sporadically, and rather handily tied up at the end."
Percy wrote back that he would try another round of revision, but he sounded a note of despair: "Passage to India is a much better constructed novel than Nausea, but Nausea would be wrecked by a revision along these lines."
It was only after The Moviegoer had made it to print and won the U.S. National Book Award that Percy realized how fortunate he was. It turned out that Kauffmann had been his greatest champion when other editors expressed their doubts about the novel, and that a Goldbergian sequence of literati had landed his book in the Award judges' good favor.
Percy wrote to Robert Daniel in March 1962:
The facts are simple. Alfred Knopf actively disliked the novel and it was shot down from the beginning — as far as promotion goes. It was bought apparently on the say so of Stanley Kauffmann who was shortly after fired (for another reason) — leaving The Moviegoer a sort of lame duck …

Well — along comes the National Awards and the three judges, Stafford, Gold and Gannett. Nobody ever heard of The Moviegoer. But A.J. Liebling happens to pick it up because Time said something about New Orleans. And what with Liebling's interest in Louisiana, he went out and bought it. Liked it and gave it to Jean. She liked it and sold Gold and Gannett. I guess.
***
As for me, I have tried to live a writing life with mixed success. Aside from two pieces of fiction and a poem, my main outlet has been journalism, published primarily in old-fashioned outlets called newspapers. As far back as high school in the mid-2000s, I depended on the good faith and bonhomie of editors who shepherded my words into print and online.
Mornings at the newspaper started this way: I would pitch my story ideas to my manager, who would go into a windowless conference room with the other editors and make the case that my idea was worth pursuing and perhaps was worth some column-inches on the front page. The editor would cross back under the fluorescent lights of our dank and dreary office, stop by my desk, and render a verdict. Then I would get to work.
I managed to keep a job as a full-time journalist for eight years. The money was bad and I wrecked my mental health in the process. In meaningful ways, my life has improved since I left that business behind. But I do miss the work.
I lost my job in May 2019 and, unable and unwilling to uproot my family from Charleston, I scrambled to find a new career at age 30. Through luck and persuasion I found work as a technical writer.
During my job search I started this newsletter and called it Brutal South. I had been saving that name as a potential title for a sludge metal concept album, but I justified it to myself as a catchy and vaguely thematic title for my collected writing.
I set myself an artificial deadline for the newsletter: I would publish something new every Wednesday. I've done that every Wednesday for a year now, with the exception of Christmas Day (I published early that week) and the Wednesday during the peak of the George Floyd protests in Charleston (I published a day late). I don't know whether to feel proud or embarrassed of this compulsion.
My only champions now are my readers, and my only critic is myself. This has been a liberating experience, but also a lonely one.
I know I run the risk of sounding grandiose here by comparing myself to a giant like Walker Percy. I don't know that I'll ever write something that a stranger would call a masterpiece, or that a publishing house would advance me the money to write a book. My ambitions for literary fiction are vague and out of practice, and my desire to re-enter the journalism industry is nonexistent at this point.
I only mean to say that I recognize his struggle.
***
Some writer friends have asked me about the newsletter and whether it's worth their time to start one. For people like them, and in the interest of transparency, I thought I would crack open the ledger this week. To read the perspective of some more successful Substack writers I enjoy, I recommend reading this summary by Vicki Boykis or this one by Luke O'Neil.
I made no money off of the newsletter for the first five months. Many of my readers were friends and family, and I felt slimy asking them for money. People signed up for free, and some of them told their friends, and the mailing list grew slowly but surely.
Substack, the website I'm using to publish the newsletter, is basically a blog platform that also provides automatic email publishing and connects to the electronic payment processor Stripe. In December 2019, with hundreds of people on the mailing list, I flipped the switch and turned on the option of paid subscriptions with a short word of explanation to the readers. I set the price at $5 a month or $55 per year. I had no idea if anyone would go for it.
To my great surprise and gratitude, people signed up to support my work financially. As of Tuesday morning, I had 702 people on my mailing list, of whom 60 were paying subscribers.
I make a gross annualized revenue of $3,300. Substack takes a cut of 10% from that, and the payment processing company Stripe takes another 2.9% plus 30 cents per transaction.
So, assuming everyone renews their subscriptions, I'm taking home about $2,700 a year at this point. That's $225 a month, or $52 a week. Not bad for a side hustle.
The podcast doesn't make any money because I don't sell ads on it. As mentioned above, though, I'm starting to release some podcast content as a perk for paying newsletter subscribers.
My one other revenue stream related to the newsletter is the Bookshop page I set up in April 2020 at the recommendation of my neighborhood bookseller. We discussed the business model on episode 1 of the podcast, but in short, it's a slightly more ethical bookselling alternative to Amazon that returns a portion of the profits to independent bookstores and another portion to affiliate sellers like me.
It costs nothing to set up a Bookshop page. I've been updating it with book recommendations, mostly ones that I've mentioned in the newsletter, and so far I have made $40 in commissions. My bestseller, so to speak, is Ling Ma's Severance, a literary zombie novel that I reviewed in an April 29 newsletter. I have sold five copies through Bookshop, netting me a commission of $8.50.
I am grateful beyond words for all of this. But I'm in no position to quit my day job.
***
I usually work on the newsletter at night while my children are in bed. I play meditative heavy music via a little Ikea Bluetooth speaker on my desk, and sometimes I light a candle. I turn on my lamp and I go to work.
These last few months in quarantine, working from home, the newsletter has been a welcome relief to the monotony of my days. I started the podcast so I would have an excuse to talk with interesting people outside my immediate family.
I do miss working with an editor from time to time. I miss my colleagues in the newsroom. I miss the thrill of cracking a news story wide open. But I've found a new rhythm to my days, a new way to write slowly and reflectively, and it suits me for now. This is how I keep writing. This is how I stay sane.
***
The quotations from Walker Percy's correspondence were found in Benjamin A. Alexander's book Good Things Out of Nazareth: The Uncollected Letters of Flannery O'Connor and Friends. You can, ahem, order a copy via the Nonfiction section of the Brutal South Bookshop page.
The picture at the top is my desk. The painting is by Panhandle Slim, a folk artist in Savannah, Georgia. The quote comes from Flannery O'Connor's prayer journal.
Find me elsewhere on the internet:
Apple Podcasts // Spotify Podcasts // Bookshop // Twitter // Bandcamp