When they call you a communist
On Vincent Bevins' The Jakarta Method and the world our country built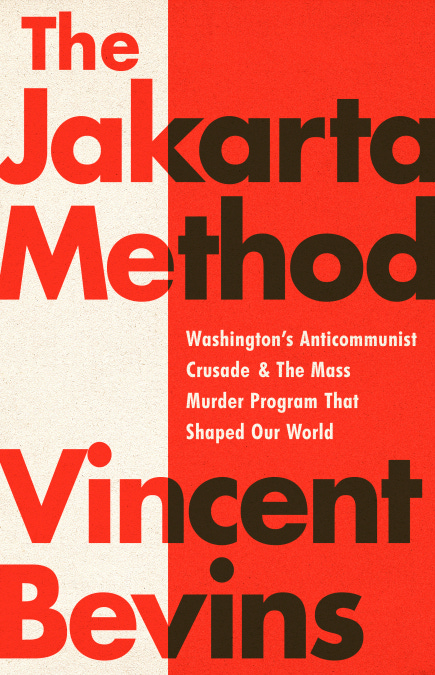 There was always a sick irony to the Central Intelligence Agency raising red flags about foreign interference in the 2016 United States presidential election.
Historically speaking, U.S. intelligence officials were as concerned with the integrity of elections as mafia bookies were concerned with the integrity of horse race betting. Ever since the first communist candidates began winning elections in post-war Europe, the U.S. has written the playbook on propaganda, misinformation, smear campaigns, election interference, and direct funding of right-wing authoritarian candidates.
The U.S. attempted to influence the outcome of foreign elections at least 80 times between 1946 and 2000. To the extent that trolls or hackers or ex-KGB agents really did undermine the U.S. democratic process in 2016, they were almost certainly using a playbook written by our own intelligence agencies.
Whatever interest foreign actors took in our election, we are fortunate that they took no further pages from that playbook. They stopped short of sabotaging our economy; forcing starvation; arming and training military juntas; or promoting the use of kidnapping, torture, terrorism, and mass murder.
Those extreme measures are the subject of journalist Vincent Bevins' 2020 book The Jakarta Method: Washington's Anticommunist Crusade & the Mass Murder Program that Shaped Our World. If I seem extra agitated today, it's because I recently read it in long stretches, late into the night, pausing occasionally to read passages aloud to my wife or tweet my outrage into the void.
I can say with some confidence that we learned nothing about the U.S.-backed bloodbath in Indonesia at my South Carolina public high school. We learned the rough outline of the Cold War: The struggle for global influence between the U.S. and the Soviet Union after World War II, the space race, the nuclear arms race, and some of the higher-profile clashes in Vietnam and Cuba. So Bevins' book was an eye-opener for me.
The Jakarta Method makes a compelling case that the U.S.-backed anticommunist slaughter in Indonesia from 1965-66 set a pattern for right-wing movements around the world. It's vital reading for anyone who wants to understand the nature of U.S. influence and a sobering read for those who are committed to a more just world for the working class.
***
The Communist Party of Indonesia (PKI) was the third-largest communist party on earth until 1965, thanks to a strong labor organizing arm, a women's movement, and a series of strong showings in parliamentary elections.
Indonesian President Sukarno, while not a communist himself, worked in coalition with the PKI and led an international movement for third-world anticolonialism. ("Third world," at the time, referred to the world outside the control of the western capitalist "first world" and the Soviet communist "second world." With the second world no longer in existence, we now refer to countries of the former "third world" as the "developing world.")
Chinese Communist Party Chairman Mao Zedong had urged the PKI to arm themselves for defense against capitalist interference, but the PKI chose a peaceful path, believing they could coexist peacefully with a capitalist empire on the other side of the globe. This proved to be a fatal strategic error.
As Bevins describes in the early chapters of his book, the U.S. government initially tried to sway Indonesian politics through diplomacy. Then it tried to weaken Indonesia's leftist movement through hamfisted propaganda, including (I wish I were making this up) a pornographic film starring a poorly cast Sukarno lookalike. The U.S. also withheld aid via the International Monetary Fund to dictate economic policies that quintupled inflation, immiserating the Indonesian poor overnight.
In the fall of 1965, the U.S.-backed General Suharto (not to be confused with Sukarno) used a ginned-up communist coup attempt as a justification to launch his own coup. Six Indonesian generals were assassinated and found at the bottom of a well, and Suharto claimed that demon-possessed communist women had tortured and ritually killed them. The BBC, Radio Australia, and the U.S.-funded Voice of America all ran with Suharto's version of events, manufacturing an international consensus in support of the purge that followed.
The PKI was a respectable party in Indonesia, even among very conservative Muslims, Bevins writes. That all changed after the coup. Ishak Djuarsa, a military commander who had trained at Fort Leavenworth in the U.S. state of Kansas, announced to an assembled crowd in the western province of Aceh: "The PKI are kafir [infidels]. I will destroy them down to their roots! If in the village you find members of the PKI but do not kill them, it will be you who we punish!"
Police, soldiers, and gang-pressed civilians moved across Indonesia and started killing communists, alleged communist sympathizers, and minorities of Chinese descent. Membership in previously legitimate institutions, like labor unions and the PKI, instantly marked hundreds of thousands of people for death.
The killing squads moved from island to island, armed with machetes. People disappeared in the night, and bodies piled up in the rivers until the smell was overwhelming. 
Bevins writes on page 142:
Working with CIA analysts, embassy political officer Robert Martens prepared lists with the names of thousands of communists and suspected communists, and handed them over to the Army, so that these people could be murdered and "checked off" the list.

As far as we know, this was at least the third time in history that US officials had supplied lists of communists and alleged communists to allies, so that they could round them up and kill them. The first was in Guatemala in 1954, the second was in Iraq in 1963, and now, on a much larger scale, was Indonesia in 1965.

"It really was a big help to the army," said Martens, who was a member of the US embassy's political section. "I probably have a lot of blood on my hands, but that's not all bad."
Managers of US-owned plantations also handed kill lists to the Army, directing them to murder "troublesome" communists and union organizers.
Internally, the Indonesian Army referred to this program as Operasi Penumpasan — "Operation Annihilation."
Bevins writes again on page 157:
Up to a million Indonesians, maybe more, were killed as part of Washington's global anticommunist crusade. The US government expended significant resources over years engineering the conditions for a violent clash, and then, when the violence broke out, assisted and guided its longtime partners to carry out the mass murder of civilians as a means of achieving US geopolitical goals.

And in the end, US officials got what they wanted. It was a huge victory.

As historian John Roosa puts it, "Almost overnight the Indonesian government went from being a fierce voice for cold war neutrality and anti-imperialism to a quiet, compliant partner of the US world order."
Bevins makes the case that the campaign of state terror in Indonesia was so successful at crushing a popular leftist movement that it became a template for anticommunist campaigns in Brazil, Chile, and other countries under the growing sphere of U.S. influence.
***
After the election of Donald Trump, the Chilean-American playwright Ariel Dorfman was quick to point out the parallels to his own home country's thwarted democracy in a December 2016 New York Times op-ed titled "Now, America, You Know How Chileans Felt." Despite the headline, he didn't indulge in any schadenfreude.
"This country deserves, as all countries do — including Russia, of course — the possibility of choosing its leaders without someone in a remote room abroad determining the outcome of that election," Dorfman said.
Like many Americans, I've had a vague understanding that the U.S. government meddled in Latin American democracies. I knew about Reagan's Iran-Contra scandal, I knew about the Sandinistas, and I knew Eisenhower and JFK had tried to have Fidel Castro assassinated about a thousand times. I didn't know how far we went in other countries.
In Chile in 1970, the democratic socialist Salvador Allende won the presidential election despite a multi-million-dollar misinformation and psychological warfare campaign carried out by the U.S. government. Allende was not a communist and had little backing from the Soviet Union. Still, in the eyes of Henry Kissinger, U.S. President Richard Nixon, and the Chilean oligarchs they befriended, Allende had to go. 
"I don't see why we need to stand by and watch a country go Communist due to the irresponsibility of its own people," Kissinger told his aides at the time, according to declassified documents in George Washington University's National Security Archive.
According to Bevins' research, Chilean right-wing militants adopted a plan called "Plan Djakarta," named for the Indonesian capital of Jakarta. Messages were plastered on walls in the capital city of Santiago: "Yakarta viene." "Jakarta se acerca."
"Jakarta is coming."
Jakarta did come, in the form of an anticommunist purge led by General Augusto Pinochet. Allende committed suicide on Sept. 11, 1973, as the Chilean air force strafed poor neighborhoods where residents were suspected of communist sympathies. With the full backing of the U.S. government, Pinochet swooped into power and brutalized the country as its dictator for the next 16 years.
***
The Jakarta Method has me wondering about the potency of anticommunist messaging in the 21st century. The next time a U.S. administration decides to purge its perceived enemies, will it go back to the rhetoric of anticommunism? Will it revert to Bush-era War on Terror jingoism? Or will it turn its gaze to domestic unrest and choose a new bogeyman, like antifa?
In some mainstream Republican circles today, anybody to the left of Marco Rubio is a communist. People who haven't bothered to read the Communist Manifesto are waving their arms at "cultural Marxism" on college campuses. Even Joe Biden, of all people, is a "radical" leftist according to the TV commercials your grandparents are watching right now. In my darker hours, I can easily imagine President Tom Cotton in the year 2025 sending unmarked Homeland Security vans to kidnap alleged communist sympathizers off the streets during civil unrest.
In his book, Bevins interviewed people who were branded for life as communists, who endured torture, who lost spouses and family members to anticommunist death squads. Speaking to committed leftists who survived the 1965 massacre in Indonesia, he asked two questions: 1. "Think back to 1963, 1964. In those years, what world did you believe that you were building? What did you believe the world would be like in the 21st century?" and 2. "Is that the world you live in now?"
Often, their eyes would light up when answering the first part. They knew the answer. They were building a strong, independent nation, and they were in the process of standing up as equals with the imperial countries. Socialism wasn't coming right away, but it was coming, and they would create a world without exploitation or systemic injustice.

The answer to the second question was so obvious that it felt cruel even to ask. It might have been one thing if their government had committed horrible atrocities, but recognized the mistake, and built a just, powerful society. This did not happen. They are living out their last years in a messy, poor, crony capitalist country, and they are told almost every single day it was a crime for them to want something different.
There are those among us who still want something different, for the U.S. and for the world. In this country we are still a long way off from the blood-soaked beaches of Indonesia, but the book serves as a reminder of what our government is truly capable of doing.
If you are committed to the cause of economic justice for the poor, a day may come when powerful people call you a communist. Maybe you are; maybe you aren't. You won't be allowed to shrug this label off, even if you want to.
When they call you a communist, know that you can't shake the label by ascribing to more centrist policies. When a fascist regime chooses anticommunism as a strategy, all of its enemies are labeled communists for life.
When they call you a communist, know that those words were a death sentence for millions of people the world over.
When they call you a communist, know that you are in good company with people who believed in the possibility of a better world.
***
Seriously, go read this book. The Jakarta Method is available to order via the Brutal South Bookshop storefront.