In praise of South Carolina's Brutalist beast
It's a hulking mass of concrete, and it will outlast us all. Get used to it!
Marcel Breuer's health was failing as the builders raised a concrete edifice on a hill in South Carolina's capital city. It was to be one of Breuer's final works on the earth.
Columbia's Strom Thurmond Federal Complex was completed in 1979, three years after the architect Breuer retired and two years before he died. The 15-story tower and adjacent federal courthouse are fine examples of Brutalism, a polarizing architectural style whose name still serves as an epithet wielded by traditionalist prudes who lack a proper sense of awe.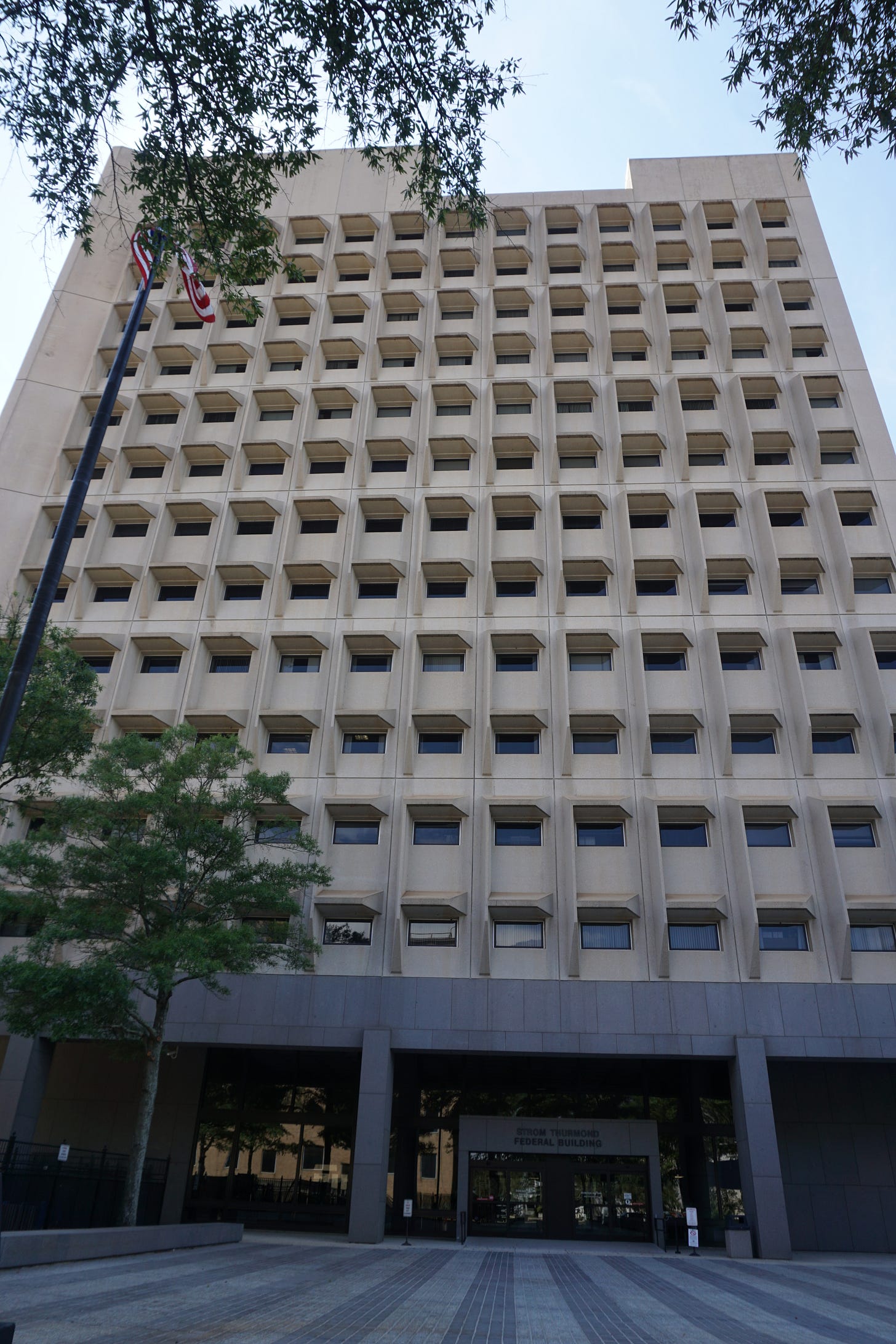 Columbia, it should be noted, has a rich history of modernist architecture, in part because its antebellum buildings are long gone. Much of the city burned to the ground during the Civil War in 1865, leaving a clean slate for new construction. After Reconstruction, some locals embraced skyscrapers and other ambitious 20th-century building projects as symbols of progress.
The centerpiece of the complex is the hulking gray Federal Building, which features a hypnotic array of brise soleils, the angular hoods that shield the windows from sunlight during Columbia's roughly nine months of summer. On a cloudless day, the harsh shadows creep along the walls like fattened sundials.
Breuer's biographer Isabelle Hyman described his works as "brooding" and "assertive," and if I had to anthropomorphize a building, those are the character traits I would assign to this one.
I confess that I never paused to consider the Thurmond Federal Complex when I lived in Columbia years ago. Speeding past it on my bike, or riding the elevator to the Social Security office to fill out paperwork, I smudged it into the cityscape and didn't give it a second thought.
I have recently become an unabashed fan.
This year marks the 40th anniversary of the complex's completion. In 2014, an expert built the case for its historic and cultural significance. It earned a spot on the National Register of Historic Places that same year.
In her opening narrative on the Register application, the architectural historian Emma K. Young describes the complex this way:
a skillful example of the Brutalist style of architecture, a Modern style of architecture that emphasized stark forms and raw surfaces, particularly of concrete. The complex exhibits many character-defining features of the style, including rough, exposed exterior concrete walls, deeply recessed windows, and a weighty massiveness.
Hail, hail.
If the sea rises again to its ancient sandy shorelines in the South Carolina Midlands, the tower will jut above the waves for eons. Its lobby will become a reef for whatever life remains.
***
Brutalism has always been politically thorny. One of its forefathers, the Frenchman Le Corbusier, has been accused of holding fascist and antisemitic views. The style was favored by socialists and utopians who envisioned efficient blocks of equitable housing for all, but it also gained fans among dictators and despots the world over.
Breuer, for his part, trained in the Bauhaus art school of Germany and fled with several other artists as the Nazi Party rose to power. Aside from that, I confess my ignorance about his politics and the political content of his work. Does a work of architecture have an inherent politics?
For reasons I haven't completely grasped yet, Brutalism seems to be having a cultural moment, engendering the love of civic-minded preservationists and the ire of the U.S. president. The Brutalism Appreciation Society, a niche Facebook group with 63,000 members, is a rare pleasure that still makes the website worth my time.
One of my favorite Brutalist designs was never actually built. The Brazilian modernist Oscar Niemeyer envisioned a windowless concrete pyramid inverted daringly on top of a cliff in Caracas, Venezuela, to house a new Museum of Modern Art. Designed in 1955, it appears in a grayscale rendering as a mothership in the mist, casting a long shadow into the valley.
I've grown partial, too, to the Brutalist churches built from France to Japan to the lake shores of Michigan, especially Breuer's stunning 1966 St. Frances de Sales Church. Some people feel the fear of God while craning their necks in the Sistine Chapel; I feel it browsing Pinterest for granite altars raked by shards of sunlight.
And then there is the Strom Thurmond Federal Complex, named in honor of an infamous segregationist but at the same time reflective of aspirations for a better future.
My wife and children recently humored me on a road trip when I demanded that we stop in Columbia to take in the view. They stayed in the car as I gawked.
It was a bright clear day, and the shadows stood in stark relief under stairs, railings, and awnings. I thought about Breuer as an architect of light and shadow, sketching out how the sun would move across every geometric shape. Every corner I turned brought new pleasures, textures, surprises.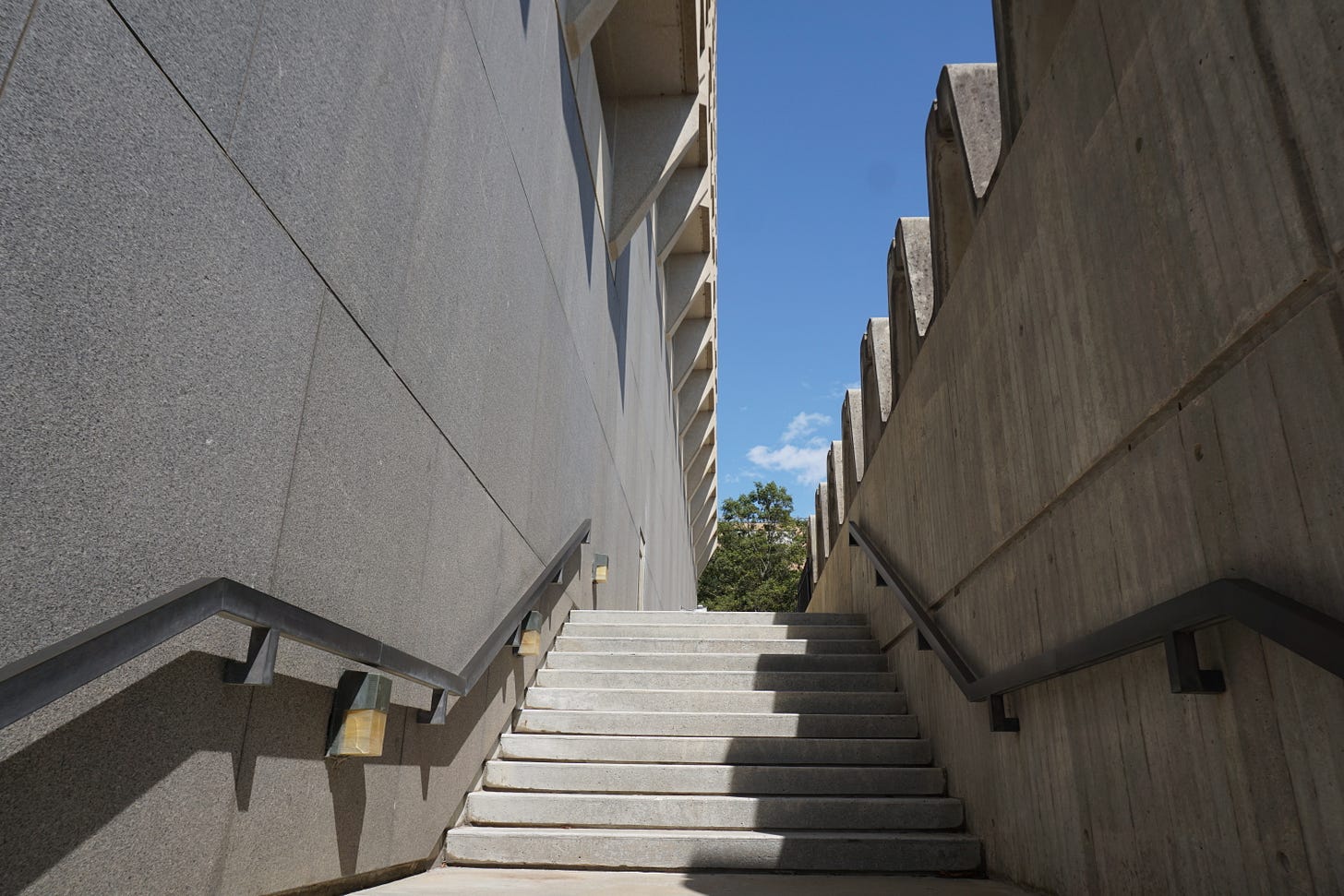 ***
Not everyone loves this building like I do. In the public imagination, Brutalist buildings can sometimes be seen as cold, ominous, and unwelcoming. When I was a student at the University of South Carolina, right down the street in Columbia, a friend's father brought him to campus, took a look at some of the raw concrete masterworks there, and shuddered as he said, "Ugh, Brutalism."
Back in 1979, the criticisms of the Thurmond complex had less to do with aesthetics than they did with the cost overruns and breathtakingly stupid interior design choices that plagued the three-year construction project.
In July of that year, with the complex $3 million over budget and two years behind schedule, reporter Jan Stucker chronicled the federal building project's woes in The Columbia Record.
The first office workers to arrive languished in darkness under poorly arranged light fixtures, water pipes ran through the wrong rooms, and some of the courtrooms were deemed too small for cases involving multiple defendants. Thanks to a pedestrian tunnel that never materialized, a set of 30 concrete steps led to a concrete wall.
Rats enjoyed free rein of the place. They chewed through the fifth-floor carpeting, shat everywhere, and reportedly stole a guard's supper from his Tupperware lunchbox.
A building contractor, speaking under condition of anonymity, told Stucker the project was "the most fouled-up mess" he had seen in more than 20 years working with the U.S. General Services Administration. Later, when it was revealed that a curvy sculpture in the courtyard had cost taxpayers $65,000, protesters picketed against what they saw as an exorbitant expense and tagged the artwork with gold spray paint.
As originally conceived, the complex was supposed to help spark urban renewal while consolidating federal agency offices in the state capital. It was supposed to be a bastion of energy-efficient design, with an interior shielded from the famous Columbia heat. It became better known for its failings.
In the 2014 National Register of Historic Places application, Young noted the botched execution of the interior, but she wrote that her access to the building was limited. She only got to see the first, second, eleventh, and fifteenth floors, and she noted that the upper floors all seemed to have been modified heavily: drywall partitions, those ubiquitous drop ceilings and fluorescent lights.
The lobby retained the most original character. It features glazed bricks on the floor, unglazed bricks on the walls, and two monumental concrete columns soaring to a concrete ceiling. Granite cubes are set into the walls as trash receptacles.
On the Foursquare app, where the last person checked in at the Strom Thurmond Federal Building in 2014, the critics have not been kind.
"It is hot as ass in this place."
"Not a fun place to be!"
"I hate this place."
Nobody mentioned that the entryway made them feel like supplicants at the base of a holy mountain, so maybe it's just me.
***
The 15th-floor penthouse used to include an office for U.S. Sen. Strom Thurmond, the building's namesake, a South Carolina statesman who is best remembered for his segregationist presidential campaign and his daylong filibuster against civil rights legislation.
I have never seen the penthouse. A 2007 report described plush carpet, polished hardwood ceilings, and a terrace with a view of Assembly Street.
From that perch, I imagine Thurmond might have glimpsed the Confederate flag flapping over the Statehouse dome six blocks away, hoisted there by lawmakers in 1961 as a middle finger to progress.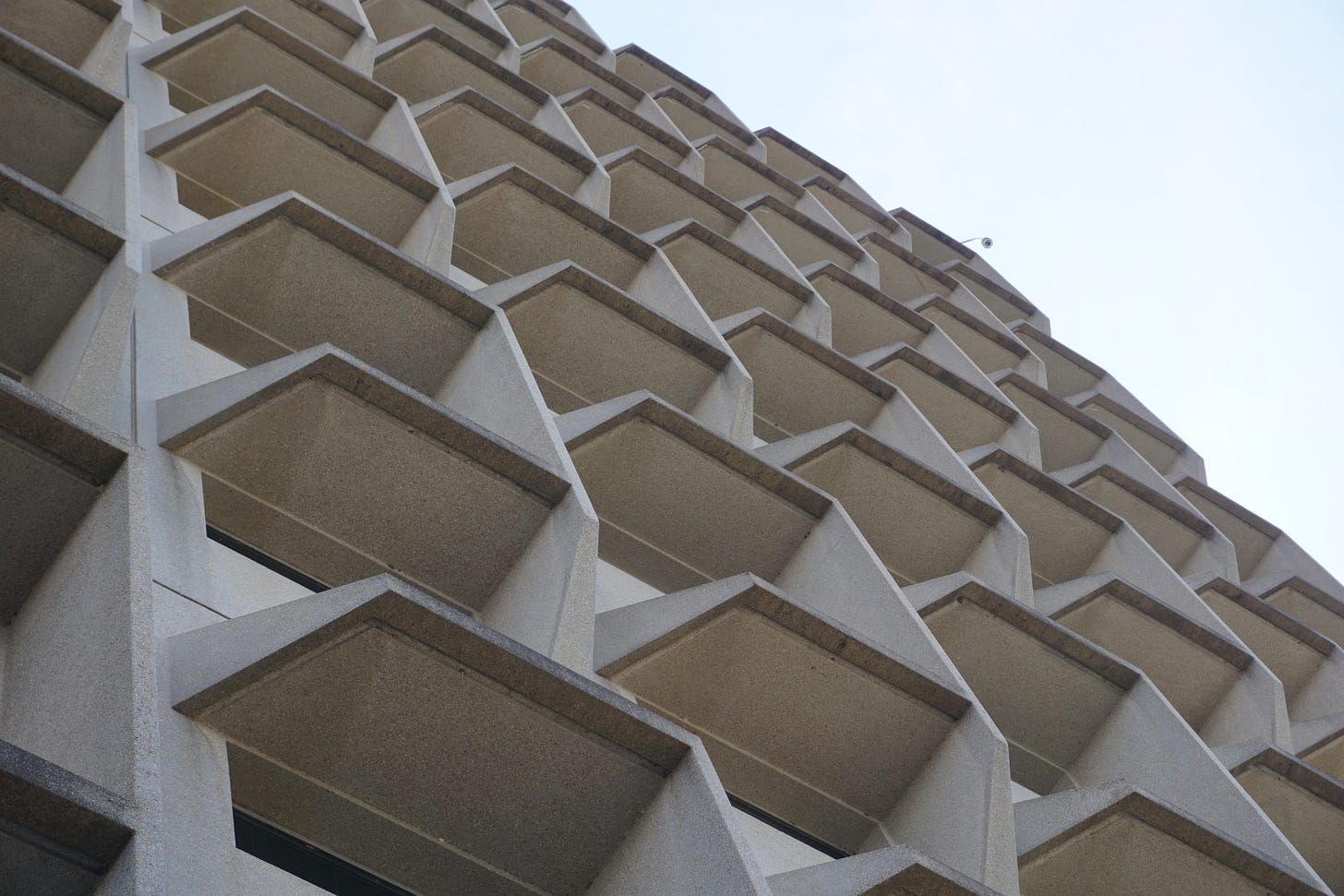 At some point after Thurmond vacated his office, U.S. Immigration and Customs Enforcement moved in to the penthouse, according to Young's report. As of 2012, the top floor was home to ICE holding cells and office space, continuing Thurmond's political legacy in an oblique way.
The exterior of the building carries a different legacy, though. The architectural historian Lydia Mattice Brandt at the University of South Carolina in Columbia recently humored my fumbling questions about Brutalism, and she said the modernist buildings that now pepper her campus and city speak to lofty dreams.
"Modernism … symbolized the New South and that Columbia was part of that New South," Brandt said. "Modernist buildings proved that the South was keeping up with the rest of the world."
That's not what I expected to hear. When I started searching for contemporary accounts of the Thurmond complex's construction, I half expected to read city councilmen kvetching about its "ugliness" or the imposition of the federal government on a Southern city's hospitality. I found none of that.
In her classes at the university, Brandt has students take a closer look at examples of Brutalist and modernist architecture on their own campus. She has won new generations of converts.
"Every semester when I teach this stuff, I have students come in the classroom and say, 'Ugh, I hate modernism,' and as soon as you get them to look closely at the buildings and you learn more about the complex intentions behind them, they start to soften," Brandt said. "By the end of the semester, they're like, 'Oh, I'm going to stand in front of a bulldozer for that building.' Every semester, it's like clockwork."
***
The building's interior flaws were almost certainly out of Breuer's hands, and contemporary reports suggest the project was a classic case of bureaucratic miscommunication.
The Hungarian-born master had by then cemented his international reputation with such iconic buildings as the Whitney Museum of American Art, so it didn't much matter if his late-career work won fans in Columbia.
As for the stray aesthetic criticisms of Brutalism, I like to imagine Breuer laughing them off. Surely he'd heard them all by the late '70s.
Whatever their considerations, Breuer and the Government Services Administration decided to drop a mass of federal concrete in a city that I love.
Cheers to them, I say. I cherish the imposition.